Installation (Windows)
To use the Windows logon service, you must install the Windows logon service application (Client Tool).
Before use
Please make sure to check the System Requirements before installing the software.
Windows administrator privileges are required for installation.
After installing the client tool, the PC may reboot. Save your important files and close all applications before installing them.
How to download?
Log in to the management screen of YubiOn Portal site.

Click the "PC" icon in the menu on the left side of the screen and click "Download".

Click "Download" button.
About downloading
A 32-bit or 64-bit download button will appear depending on the PC you are using.

If you want to download a tool for different architecture
Click "Download tools for different architecture".

You will see a download button for different architecture.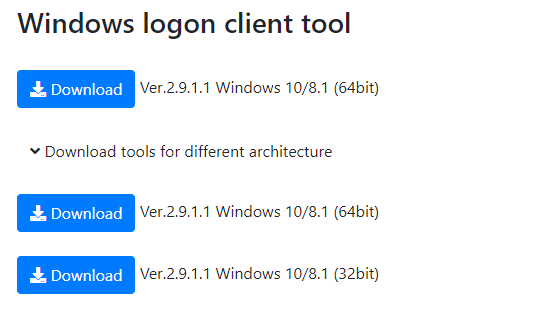 Download the tools for the architecture you are using.
How to install?
Run the downloaded installer.

If a warning is displayed during the installation.
In environments where Microsoft's "SmartScreen" feature is enabled, a warning may appear when downloading files or starting installation. If a warning is displayed, follow the steps below to proceed with the installation.
Do not run files that you are not sure you have downloaded from this YubiOn Portal site, as they may be illegal. 1. Click "More info". 2. Click the displayed "Run anyway" button.

After reading the software license agreement, check the "Agree" checkbox.

Click "Install".
The installation will begin.
At the User Account Control confirmation pop-up, click "Yes".

When the installation is complete, the completion screen will be displayed.

When you exit with the "Launch configuration tool" checked, the configuration tool will automatically start.


Continue to install the required runtime.
At the User Account Control confirmation pop-up, click "Yes".

The installation of the required runtime will be started.

After the runtime is installed, a pop-up will appear prompting you to reboot.

If you don't need to reboot, no pop-up will appear.
If you don't see a pop-up, the installation is complete at this point.

When a confirmation message appears, click "Yes".

The PC will be rebooted and the client tool installation will be completed.
Next, go to the Client Tool Setup.