Export data for kitting registration
Export data for kitting registration in CSV format.
About paid plans
---
This function is for paid plans (Premium).
Please purchase a plan when using this service.
Click on "Member management" from the menu on the left side of the screen.

Click on the "Export kitting data" icon.

Select the member(s) to which you wish to export data from the following
Only selected members

All members of your search

All members

About exported members
---
Only YubiKey and member information to which the account is assigned will be exported.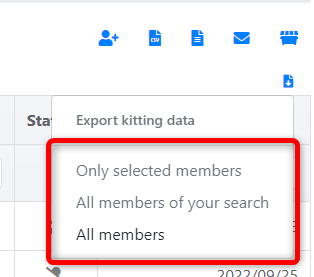 The file "yyyyymmdd_KittingExport.csv" will be downloaded.
Please use this CSV for uploading when registering kitting CSV.


About CSV file format
---
When opened in a text editor, they will be comma-delimited.
The following is an explanation when opened in Microsoft Excel.
1st (column A): Member ID




2nd (column B): Member name

3rd (column C): Email address

4th (column D): Group




5th (column E): Administrator




0: General
1: Administrator

6th (column F): YubiKey Serial No.




7th (column G): OS




8th (column H): PC ID (SID or UUID)




9th (column I): PC Name




10th (column J): Account name



That's all for data export for kitting registration.