Each member configures their own YubiKey
About paid plans
---
This function is for paid plans (Standard / Premium).
Please purchase a plan when using this service.
Administrators can send a registration email to members to set up their own YubiKey assignments. In the registration email, there is a link to the "Simple Setup" screen to "set up a password, assign a YubiKey, and install the two-factor authentication setup tool" so that each member can self-set up.
After sending the email, each member will follow the link provided in the email to register for the YubiKey and set up the two-factor authentication service. Please refer to "How to use Windows logon" for the setup procedure.
Select "Member management" from the menu on the left side of the screen.

Click "Registration Email Notification".

A list of IDs, member names, and email addresses is displayed in the member list.

Select the members to be notified by email by clicking on the checkboxes.
Click the "Send" button.
If the email was sent successfully
---
The status item in the member list will be "Sending Mail" or "Sent email".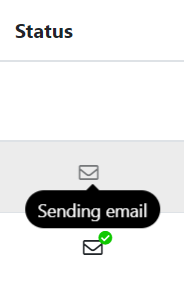 If the email failed to send
---
The status item in the member list will be "Failed to send email".
Please make sure your email address is correct and send it again.